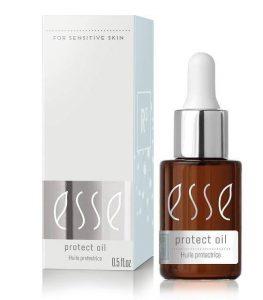 The Protect Oil launched at the end of May 2018 and follows the Sensitive range's mandate to remediate and protect sensitive skin.
Esse Skincare showcased a new oil from Namibia to protect sensitive skin from environmental damage and strengthen barrier function for ongoing support.
It's primary ingredient, Ximenia oil is unique. 20% of it consists of a fatty acid called Ximenynic acid. This acid contains a very rare triple bond in its carbon chain. When exposed to UV light or free radicals, this triple bond breaks and binds with other chains to form a protective polymer coating over the skin.
Another 30% of the oil consists of very long chain fatty acids, a rare find in nature. These help to form an additional protective layer on the skin whilst nourishing and feeding it.
Also noted for its ability to increase blood flow, Ximenia oil delivers nutrients and oxygen more effectively to the skin, bringing a fresh, natural glow.
This easily absorbed oil is pressed from fruit kernels sustainably harvested from the wild in Namibia by a local women's cooperative.
100% of the total ingredients are from natural origin
The packaging is glass and is suitable for glass recycling.
INCI
Ximenia Americana Seed Oil, Tocopherol, Ascorbyl Palmitate, Helianthus Annuus (Sunflower) Seed Oil, Vanillin